Discover the latest insights into the Boo Dating App for 2023. Explore its key features, advantages, potential drawbacks, and answers to frequently asked questions.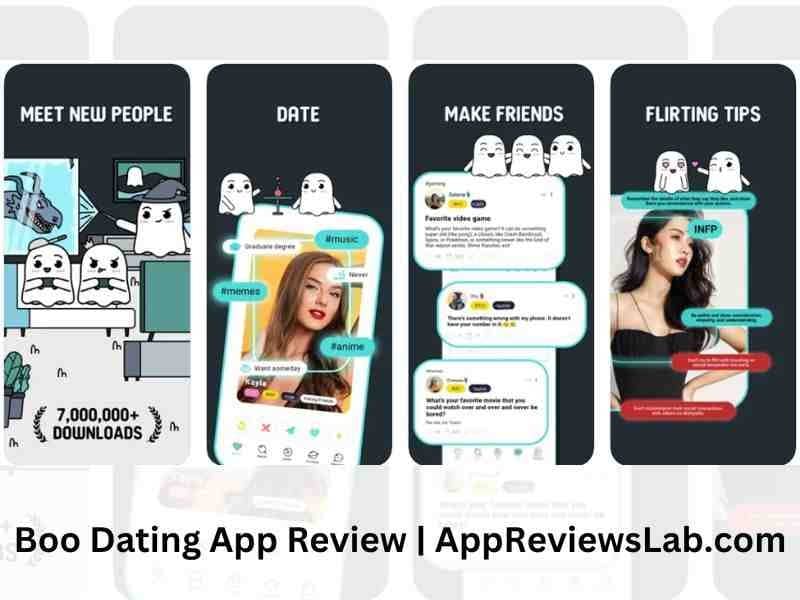 ---
Boo Dating App
The Boo courting App is a famous relationship platform that has won sizable attention on account that its launch in 2020. With over a million customers, it gives an area for people to satisfy and connect to human beings global. Whether or not you're looking for new friendships or potential companions, Boo offers a various community.
Boo Dating App Reviews: overview
| | |
| --- | --- |
| App Name | Boo — Dating. Friends. Chat |
| Publisher | Boo Enterprises, Inc. |
| First Version | 1.0 |
| Last Updated Version | 1.13.15 |
| Store Name | Available on App Store & Google Play Store |
| Current Ratings | 4.3 |
| Total Reviews | 26.2k |
Boo Dating App Reviews: overview
---
---
How does the Boo Dating App work?
You need to create an account with your Google account or phone number. You have the choice to choose either of the two.
If you want to have a good look before creating an account, then the app lets you do that too. But we suggest you create an account for a better experience.
You won't be able to swipe if you don't create an account.
Yes, the app works on swiping methods like other dating apps. But that's not it.
There are other options, too, like the community. Here you post anything and share it with the world. It's similar to Instagram.
You can also perform a personality analysis to get a better match.
So, the Boo app works like other dating apps but comes with many more features.
How to use the Boo Dating app?
Once you start using the app, you will notice four options at the bottom of your home screen. The first tab is for the profile, where you can see and edit the things on your profile.
The second tab, community, is to explore various questions asked by other users, and other users answer them. You can even filter the results and see conversations about your areas of interest.
Interestingly, you can even like or comment on the questions that interest you and bookmark them for future reference.
You can even follow people you find interesting, so that you can see everything they post.
The third tab is a Home tab, which shows other members' profiles that match your personality and type. You can access their profile in detail, see their post and even comment on them.
At last, the Messages tab lets you see all the messages you've received and the conversations that you made.
You can also access the requests received by clicking on the Requests option.
Boo Dating App (Free Version)
The Boo Dating App offers a free version with essential features for connecting with potential friends and partners. It simplifies the sign-up process for a seamless experience.
Boo Dating App Key Features
The Boo Dating App offers several features to enhance your dating journey:
Profile Creation: Build your unique profile with customizable avatars and greetings.
Personality Analysis: Take a personality quiz to determine your compatibility with potential matches.
Community Feed: Engage with the community by answering and liking questions on various topics.
Messaging: Connect with others through free chat and unlimited messaging.
Privacy Controls: Protect your personal information and control who can contact you.
Key Benefits of Boo Dating App
Immersive part of story reading
Sound effects while reading each story
Stories are short
Unlimited month subscription
Additional sounds to give more depth
Boo Dating App Pros and Cons
Pros
Verification ensures genuine user accounts.
Minimal intrusive ads enhance the user experience.
Robust reporting and safety features.
Diverse and global user base.
Cons
Premium features are available through a subscription.
Activity levels may vary by location.
Some profiles may not have genuine intentions.
Boo Dating App Special Highlights
Personality Quiz: Gain insights into your dating preferences and compatibility.
Customized Avatars: Create a 3D avatar that represents you in the Boo community.
Community Engagement: Interact with a diverse range of users through the community feed.
Frequently Asked Questions: Boo Dating App
Conclusion: Boo Dating App Review
In conclusion, the Boo Dating App is a vibrant platform that connects individuals from around the world. With its user-friendly interface, personality analysis, and community engagement features, Boo offers a unique dating and friendship experience. Whether you're seeking meaningful connections or simply want to expand your social circle, Boo provides the tools to do so. Download it today and start connecting with people who share your interests and personality.
Also Read: Most Prestigious Awards List in the world