Explore the latest reviews of the MaxRewards app for 2023. Discover its key features, advantages and disadvantages, unique highlights, frequently asked questions (FAQs), and more.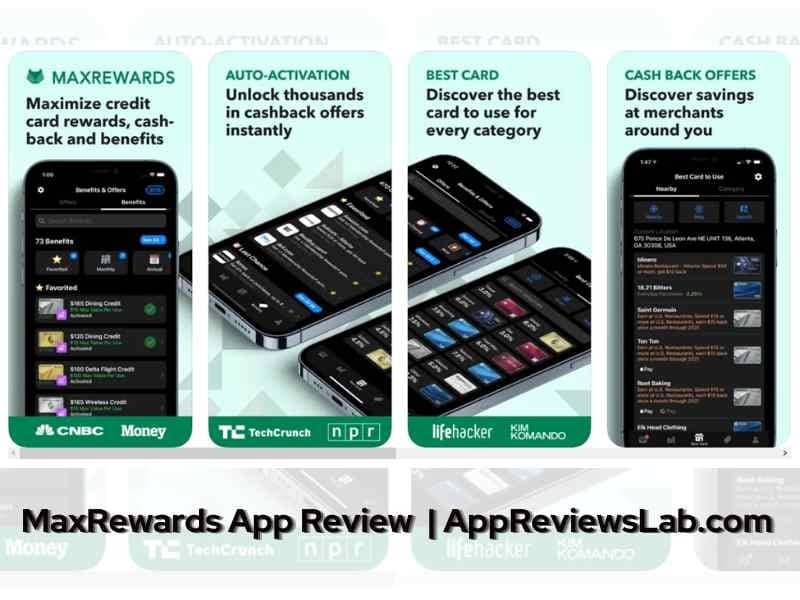 ---
MaxRewards: Rewards & Cashback Best App
MaxRewards is your ultimate companion for optimizing credit card rewards and saving money. Whether you're a frequent traveler or a savvy shopper, MaxRewards helps you maximize your credit card benefits, find the best deals, and make the most of your spending. Here are the best reviews of MaxRewards.
MaxRewards App Reviews: overview
| | |
| --- | --- |
| App Name | MaxRewards: Rewards & Cashback |
| Publisher | MaxRewards Inc |
| First Version | 1.0 |
| Last Updated Version | 2.15.0 |
| Store Name | App Store & Google Play Store |
| Current Ratings | 4.6 |
| Total Reviews | 10.3k |
MaxRewards App Reviews: overview
---
---
MaxRewards App (Free Version)
MaxRewards is a personal finance app that helps you optimize your credit card rewards and benefits. In its free version, MaxRewards provides essential tools to track your credit card expenses, monitor rewards, and receive recommendations on which card to use for maximum benefits. You can also receive notifications about important financial events and deadlines, making it a valuable resource for credit card users.
MaxRewards App Key Features
The MaxRewards app offers a range of features to help you make the most of your credit cards. Here are some of its key highlights:
Credit Card Optimization
MaxRewards analyzes your credit card portfolio and recommends the best cards for your spending habits.
Get insights on earning more rewards and saving on fees.
Rewards Tracker
Keep track of your rewards points, miles, and cashback from all your credit cards in one place.
Set redemption goals and stay motivated to earn more.
Deal Finder
Discover exclusive deals and offers tailored to your spending preferences.
Find discounts, cashback offers, and more from your favorite merchants.
Travel Booking
Book flights, hotels, and rental cars directly within the app using your rewards points and miles.
Access travel itineraries and important information at your fingertips.
MaxRewards App Pros and Cons
Pros:
Streamlined interface for effortless credit card management.
Comprehensive rewards tracking and optimization tools.
Personalized deals and offers for users.
Convenient travel booking options with rewards.
Cons:
Requires access to your credit card accounts for optimal tracking and recommendations (secured and encrypted).
Some advanced features may have a learning curve for beginners.
Frequent updates may be needed to address minor bugs, but the developer team is responsive to feedback.
MaxRewards App Special Highlights:
Security: MaxRewards employs top-notch security measures to protect your financial data.
Community: Join a community of savvy users sharing tips and strategies.
Expense Tracking: Track and categorize your expenses to identify areas for improvement.
Premium Membership: Upgrade to a premium membership for advanced features and priority support.
Frequently Asked Questions: MaxRewards App
Conclusion: MaxRewards App Reviews
In conclusion, MaxRewards is a powerful app that can help you make the most of your credit cards and save money. With its user-friendly interface, comprehensive rewards tracking, personalized deals, and convenient travel booking options, MaxRewards is a must-have tool for anyone looking to optimize their credit card usage. Whether you're a frequent flyer or a savvy shopper, MaxRewards has the tools you need to maximize your rewards and savings. Download it today and start making the most of your credit cards.