Explore the latest reviews of the Bloom Investing app for 2023. Explore its key features, benefits, potential drawbacks, unique highlights, frequently asked questions (FAQs), and more.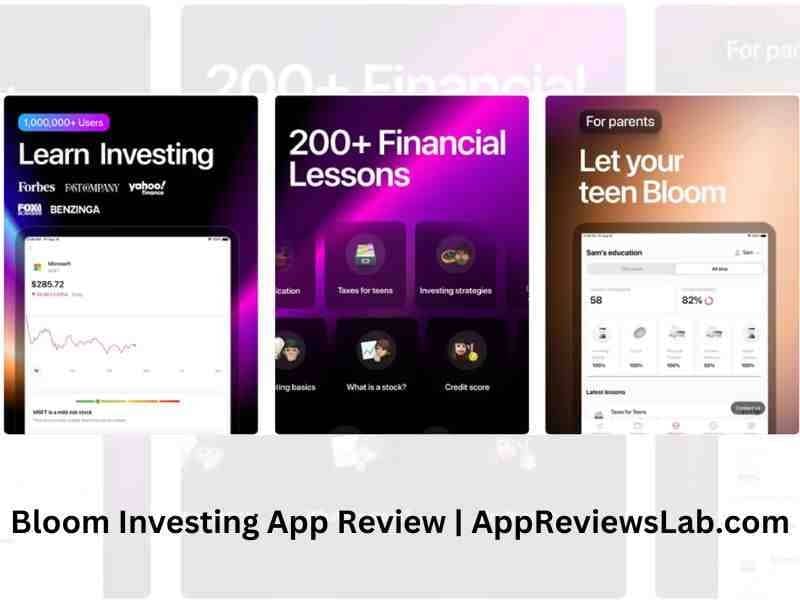 ---
Bloom Investing App
Bloom Investing is your trusted partner in the world of investing and wealth building. Designed to empower both novice and experienced investors, this app offers a user-friendly platform to invest in stocks, bonds, ETFs, and more. Whether you're saving for retirement or growing your wealth, Bloom Investing provides the tools and knowledge to help you achieve your financial goals. Here are the best reviews of Bloom Investing App.
Bloom Investing App Reviews: overview
| | |
| --- | --- |
| App Name | Bloom – Learn to Invest |
| Publisher: | Contour Labs, Inc. |
| First Version | 1.0 |
| Last Updated Version | 2.2.0 |
| Store Name | App Store & Google Play Store |
| Current Ratings | 4.7 |
| Total Reviews | 15.7k |
Bloom Investing App Reviews: overview
---
---
Bloom Investing App Key Features
The Bloom Investing app offers a wide range of features to assist you on your investment journey. Here are some of its standout highlights:
Investment Education
Access comprehensive educational resources, including articles, videos, and webinars, to enhance your financial knowledge.
Learn about investment strategies, portfolio diversification, and more.
Portfolio Management
Create and manage your investment portfolio with ease.
Utilize tools to track your asset allocation, performance, and potential risk.
Robo-Advisory Services
Benefit from robo-advisors that provide personalized investment recommendations based on your financial goals and risk tolerance.
Enjoy automated portfolio rebalancing for optimal performance.
Social Investing
Connect with a community of investors to share insights, strategies, and trading ideas.
Follow successful investors and learn from their approaches.
Bloom Investing App Pros and Cons
Pros
An abundance of educational resources to empower users.
Intuitive portfolio management tools for effective investment tracking.
Robo-advisors offer personalized investment strategies.
Social investing fosters community engagement and learning.
Cons
Some advanced features may require a learning curve for beginners.
Users should exercise caution and conduct their research, as investing always carries risks.
Bloom Investing App Special Highlights
Investment Community: Join an active investment community to share knowledge and experiences.
Robust Research Tools: Access in-depth research tools and market analysis for informed investment decisions.
Sustainable Investing: Bloom Investing supports socially responsible investing with a selection of ESG-focused investment options.
Security Measures: Bloom Investing prioritizes the security of user data and employs advanced encryption and authentication protocols.
Frequently Asked Questions: Bloom Investing App
Conclusion: Bloom Investing App Review
In conclusion, Bloom Investing is a comprehensive and user-friendly app that empowers users to make informed investment decisions and achieve their financial goals. With its educational resources, portfolio management tools, robo-advisory services, and social investing features, Bloom Investing offers a holistic approach to wealth building. Whether you're a novice investor or a seasoned pro, this app equips you with the knowledge and tools to navigate the world of investing successfully. Download it today and embark on your journey towards financial prosperity and security.
Also Read: Most Prestigious Awards List in the world