Explore the latest reviews of the 1st Phorm app for 2023. Explore its key features, benefits, potential drawbacks, unique highlights, FAQs, and more.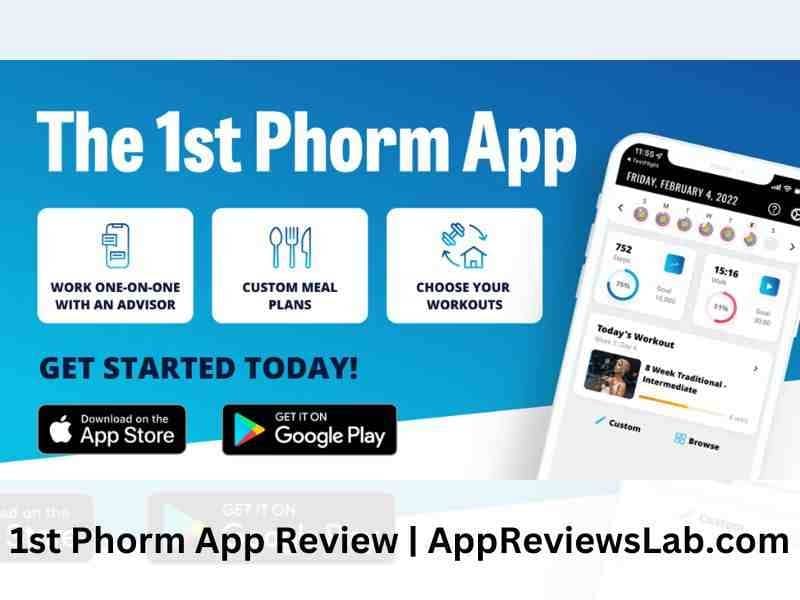 ---
1st Phorm App
The First Phorm app is your ultimate fitness and nutrition companion. Designed by experts in the field of health and wellness, this app is a comprehensive tool to help you reach your fitness goals, whether it's building muscle, losing weight, or improving your overall well-being. With an array of features and a supportive community, 1st Phorm is your partner in your fitness journey. Here are the best reviews of First Phorm App.
1st Phorm App Reviews: overview
| | |
| --- | --- |
| App Name | 1st Phorm |
| Publisher | First Phorm |
| First Version | 1.0 |
| Last Updated Version | 2.37.4 |
| Store Name | App Store & Google Play Store |
| Current Ratings | 4.3 |
| Total Reviews | 1.9k |
1st Phorm App Reviews: overview
---
---
1st Phorm App Key Features
The First Phorm app offers a wide range of features to assist you in your fitness journey. Here are some of its standout highlights:
Customized Workouts
Access personalized workout plans tailored to your fitness goals, experience level, and preferences.
Choose from a variety of exercise routines and track your progress effortlessly.
Nutritional Guidance
Receive expert advice on nutrition, meal planning, and dietary choices.
Keep tabs on your daily food intake and monitor your nutritional goals.
Health Metrics Tracking
Monitor crucial health metrics, including weight, body measurements, and body fat percentage.
Visualize your fitness progress over time and set achievable milestones.
Community and Support
Connect with a vibrant community of fitness enthusiasts and experts.
Benefit from guidance, motivation, and support from certified trainers and like-minded peers.
1st Phorm App Pros and Cons
Pros
Intuitive and user-friendly interface for seamless navigation and goal tracking.
Highly personalized workout and nutrition plans to cater to your individual needs.
Access to a supportive and encouraging fitness community.
Comprehensive health tracking for a holistic approach to wellness.
Cons
Beginners may find some advanced features require a learning curve.
Periodic updates may be necessary to address minor bugs, but the development team is responsive to user feedback.
1st Phorm App Special Highlights
Expert Guidance: 1st Phorm provides access to certified trainers and nutritionists for personalized coaching.
Community Engagement: Connect with a passionate community of fitness enthusiasts for motivation and mutual support.
Comprehensive Health Insights: Track your progress and overall health through the app's comprehensive metrics.
Premium Features: Consider upgrading to the premium version for enhanced features and personalized fitness coaching.
Frequently Asked Questions: 1st Phorm App
Conclusion: 1st Phorm App Review
In conclusion, the First Phorm app is a comprehensive and user-friendly fitness and nutrition companion that can empower you to achieve your fitness goals. With its personalized workout plans, expert nutritional guidance, health tracking features, and a supportive community, the First Phorm app is your trusted partner in your journey towards better health and fitness. Whether you're a fitness novice or a seasoned athlete, this app has the resources and support you need. Download it today and embark on your path to a healthier and fitter you.
Also Read: Most Prestigious Awards List in the world