Explore the latest reviews of the WalkFit app for 2023. Discover its key features, advantages and disadvantages, unique highlights, frequently asked questions (FAQs), and more.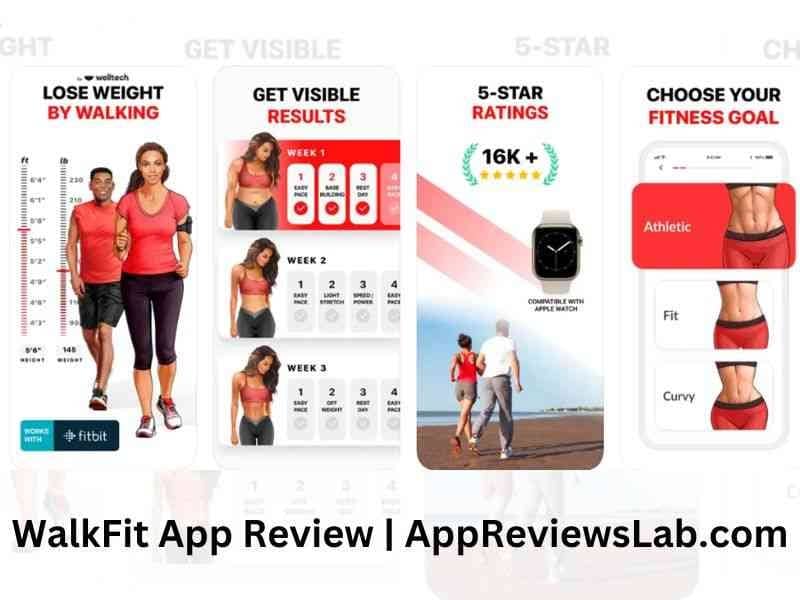 ---
WalkFit App
WalkFit is your ultimate fitness companion for achieving your walking and fitness goals. Whether you're aiming to increase your daily steps, improve your health, or embark on a journey towards a more active lifestyle, WalkFit provides the tools and motivation to get you moving. Here are the best reviews of WalkFit App.
WalkFit App Reviews: overview
| | |
| --- | --- |
| App Name | WalkFit: Walking App & Tracker |
| Publisher | WELLTECH APPS LIMITED |
| First Version | 1.0 |
| Last Updated Version | 2.39.2 |
| Store Name | App Store & Google Play Store |
| Current Ratings | 4.5 |
| Total Reviews | 18.6k |
WalkFit App Reviews: overview
---
---
WalkFit App (Free Version)
WalkFit is a fitness app designed to help you achieve your walking and wellness goals. In its free version, WalkFit offers features such as step tracking, workout plans, and GPS route mapping. You can set daily step goals, access basic workout routines, and monitor your progress over time. The free version is an excellent starting point for those looking to enhance their walking routine and improve their health.
WalkFit App Key Features
The WalkFit app offers a range of features to help you achieve your walking and fitness goals. Here are some of its key highlights:
Step Tracking
Accurately track your daily steps and set step goals to stay motivated.
Monitor your progress and visualize your journey towards better health.
Workout Plans
Access customized workout plans designed to enhance your walking routine.
Choose from various workout challenges and fitness programs.
GPS Tracking
Use GPS tracking to map your walking routes and measure your walking distance.
Analyze your pace, calorie burn, and other metrics for each walk.
Community and Challenges
Join a vibrant community of walkers and fitness enthusiasts.
Participate in challenges and events to stay motivated and compete with others.
WalkFit App Pros and Cons
Pros
User-friendly interface for easy tracking and motivation.
Customized workout plans for various fitness levels.
GPS tracking for accurate distance and route tracking.
Engaging community and challenges for added motivation.
Cons
Some advanced features may have a learning curve for beginners.
Frequent updates may be needed to address minor bugs, but the developer team is responsive to feedback.
GET FIT IN 4 WEEKS BY WALKING!
Choose your program for weight loss
Follow the instructions
Slim down
Use WalkFit as your easy-to-follow fitness plan and start seeing results. All of our workouts are designed to burn calories in the most efficient way.
TRAINING PLANS
Beginner programs
Interval training programs designed specifically for weight loss
Daily walking workouts
TRACK ALL YOUR ACTIVITY
Track steps, calories, distance, and active time
No matter where your phone is – in your pocket, in your jacket, on an armband or in your purse – your steps are calculated
STAY MOTIVATED
Daily reminders to make sure you walk off your daily step goal
SUBSCRIPTION INFO
You can download the app for free. Further use requires a subscription. At our discretion, we may decide to offer you a free trial per the terms displayed in the app. Please note that:
When opting for a subscription, you pay the fixed price for your country, which is displayed in the app.
Payment will be charged to your Apple ID Account upon confirmation of purchase.
Subscription automatically renews and free trial automatically converts into subscription unless auto-renewal is turned off at least 24 hours before the end of the current period.
Your Account will be charged for renewal within 24 hours prior to the end of the current subscription period.
You can manage your subscriptions and turn off auto-renewal by going to your account settings on the App Store after purchase.
When canceling a subscription or a free trial, your subscription/free trial will stay active until the end of the current period. Auto-renewal will be disabled, but the current subscription will not be refunded.
In addition to the purchased subscription, we may offer you add-on items (e.g. fitness guides, VIP customer support service) for an additional fee, either one-off or recurrent. This purchase is optional: your subscription is not conditional on such a purchase. All such offers will be displayed in the app.
WalkFit App Special Highlights
Achievements: Earn badges and rewards for reaching milestones and completing challenges.
Health Insights: Access insights into your health and fitness progress over time.
Social Sharing: Share your achievements and walking routes with friends and the WalkFit community.
Premium Features: Upgrade to premium for advanced features and personalized coaching.
Frequently Asked Questions: WalkFit App
Conclusion: WalkFit App Review
In conclusion, WalkFit is a powerful app that can help you achieve your fitness goals through walking. With its user-friendly interface, customized workout plans, GPS tracking, and an engaging community, WalkFit provides the motivation and tools you need to stay active and improve your health. Whether you're a seasoned walker or just starting on your fitness journey, WalkFit has you covered. Download it today and start stepping towards a healthier lifestyle.