Dive into the latest reviews of the Meete app for 2023. Explore its key features, advantages and disadvantages, unique highlights, frequently asked questions (FAQs), and more.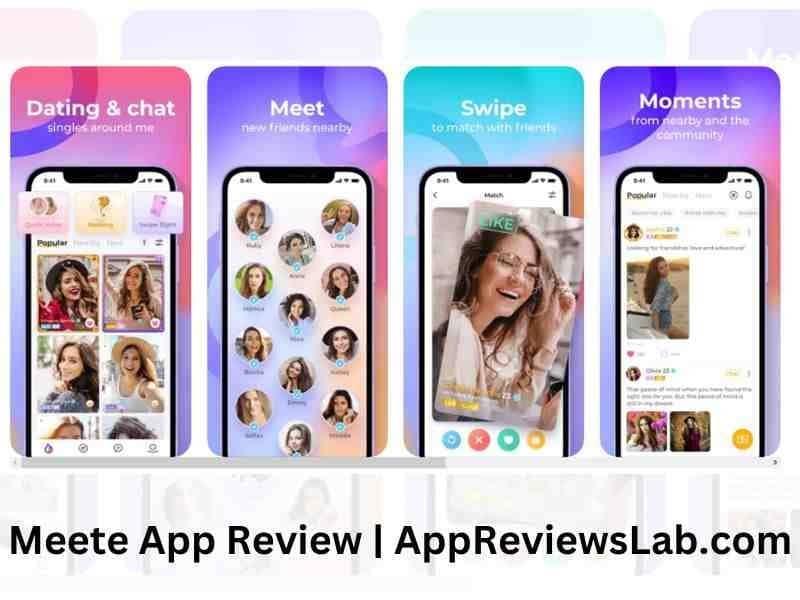 ---
Meete App
Meete is your ultimate solution for connecting with like-minded people and expanding your social network. Whether you're seeking new friends, networking opportunities, or meaningful relationships, Meete provides a platform for genuine connections in your area. Here are the best reviews of Meete App.
Meete App Reviews: overview
| | |
| --- | --- |
| App Name | Meete-Meet New Friends Nearby |
| Publisher | Quantum Communications Development Limited |
| First Version | 1.0 |
| Last Updated Version | 3.0 |
| Store Name | App Store & Google Play Store |
| Current Ratings | 4.3 |
| Total Reviews | 18.6k |
Meete App Reviews: overview
---
---
Meete App (Free Version)
Meete is a social networking app for making meaningful connections. In its free version, Meete allows users to create a profile, browse nearby users, and send connection requests. You can join local group activities and events, chat with potential friends or acquaintances, and explore the app's vibrant community. The free version offers a great opportunity to expand your social circle and discover like-minded individuals in your area.
Meete App Key Features
The Meete app offers a wide array of features to help you make meaningful connections. Here are some of its key highlights:
Profile Customization in Meete App
Create a personalized profile to showcase your interests, photos, and more.
Add bio details to give others a glimpse into your personality.
Discover Nearby Users in Meete App
Find people in your vicinity who share your interests or are open to genuine connections.
Swipe right to like, or left to pass, and start conversations.
Group Activities in Meete App
Join or create local group activities and events based on your interests.
Meet like-minded people in a fun and relaxed environment.
In-App Messaging
Engage in text chats, voice calls, and video calls to get to know your connections better.
Share photos, videos, and voice messages within the app.
Meete App Pros and Cons
Pros
Intuitive and user-friendly interface for easy navigation.
Opportunities for making new friends, networking, and meaningful relationships.
Extensive privacy controls to ensure a comfortable and secure experience.
Access to local group activities and events for shared interests.
Cons
As with any social app, exercise caution when interacting with new acquaintances.
Some users may have different intentions, so clear communication is essential.
Frequent updates may be needed to address minor bugs, but the developer team is responsive to feedback.
Meete App Special Highlights
Safety First: Meete prioritizes user safety with reporting features and a dedicated moderation team.
Community: Join a vibrant community of individuals looking for genuine connections and meaningful relationships.
Group Activities: Explore and participate in local group activities organized by Meete users.
Premium Features: Upgrade to premium for enhanced profile visibility and additional perks.
Frequently Asked Questions: Meete App
Conclusion: Meete App Review
In conclusion, Meete is a fantastic app for those seeking genuine connections, whether it's making new friends, expanding your professional network, or finding meaningful relationships. With its user-friendly interface, comprehensive privacy controls, and the opportunity to join local group activities and events, Meete makes it easy and enjoyable to connect with like-minded individuals in your area. Whether you're new to a city or simply looking to build meaningful connections, Meete has you covered. Download it today and start making genuine connections with ease.
Also Read: Most Prestigious Awards List in the world